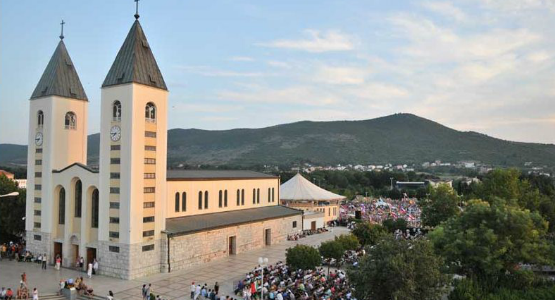 Medjugorje is one of the most famous Catholic shrines in the world, located in the southern part of Bosnia and Herzegovina, 25 km south of Mostar. Throughout the region inhabited by Croats who received Christianity more than 13 centuries. In historical documents, this settlement was first mentioned in 1599. The present parish was founded in 1892 and is dedicated to St. Jacob the Apostle, protector of pilgrims.
It has about 4300 inhabitants and year it came around a million pilgrims from around the world. Until June 24, 1981, Medjugorje lived like all other villages of this region: people worked on the land, grew tobacco and had vineyards, produced wine and vegetables in order to have enough for a modest life for their families. Because of social circumstances, many went to the world: over the ocean in western European countries, as well as in other cities in Bosnia and Herzegovina and Croatia.
June 24, 1981, around 6 pm, six young people they saw on the hill called Crnica, several hundred meters above the place called Podbrdo, a young woman with a baby in her arms, which they hand signaled her approach. Surprised and frightened they did not come.
The next day, June 25, 1981, at the same time felt a strong need to return to the place where they saw a young woman, whom they recognized as Our Lady. Then they come again where they prayed and talked with her, and she introduced herself as the Queen of peace, and for this reason on June 25 is celebrated as the anniversary of the apparitions. According to the testimony of the visionaries, from that day on a daily basis for some of them last apparition, and some see it only on certain dates, wherever they are.
On the third day of the apparitions, June 26th, 1981, Our Lady's first call to peace for the words: "Peace, peace, peace – and only peace! Peace must reign between God and between men!"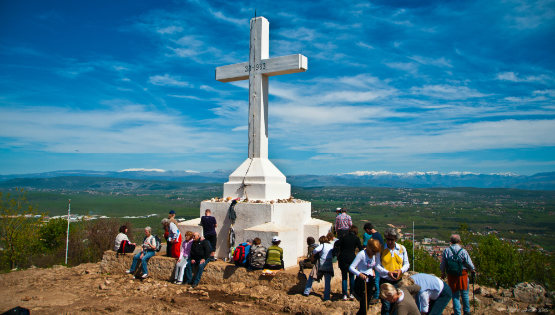 Attracted by Our Lady's apparitions and messages, people – first the parishioners and then those from neighboring villages, and around the world – started to gather and pray.
Apparition of the Queen of Peace, Medjugorje has become an inevitable destination with a rich religious and prayer content for millions of pilgrims from all over the world.
Throughout the year in Medjugorje held numerous seminars and religious meetings, and among them, we must highlight the Youth Festival, which is already over 20 years in Medjugorje. Youth festival held every year in the first days of August and during his lifetime Medjugorje is the world center of youth from which the world sent messages of peace, love and faith.
All about Medjugorje, one of the most famous Marian shrines in the world can be found on the official website of the shrine www.medjugorje.hr.